After 37 years in power, Robert Mugabe finally stepped down as the President of the Republic of Zimbabwe in November. Having led the country to economic suffering, political shambles and international shame, the country's authoritarian leader was finally forced to resign and give up his position as head of the nation.
Enter Emmerson Mnangagwa, a man who has held high office in the Mugabe-led ZANU-PF government, a man who was advisor to Mugabe and one who has been linked to the Gukurahundi Massacres – a series of massacres of Ndebele civilians carried out by the Zimbabwe National Army from early 1983 to late 1987. This is the man who has been sworn in as the current President of Zimbabwe.
The obvious questions are: 'Is this new government simply in power to protect certain people's interests?' Was the removal of Mugabe a self-interested move rather than one driven by the will of the people? It was clear that behind the 'resignation' there were internal political party disputes and a hunger for securing Mugabe's successor. Whatever the reason, it's certain that the people of Zimbabwe wanted and deserved change and that Mugabe had to go.
Fast forward to this January and the current President of Zimbabwe, Emmerson Mnangagwa, is preaching just one gospel: Zimbabwe is open for business! His recent trip to the World Economic Forum in Davos, captured in this Youtube interview, clearly conveyed this message to the international community. So what does the interview tell us?
We see Emmerson Mnangagwa expertly dodging certain questions related to his previous involvement in human rights violations, corruption and other indecent and unscrupulous activities in the country – notably the Gukurahundi massacres and the invasion and seizure of white-owned farms. The people of Zimbabwe, as well as foreigners, need time to come to terms with and forgive these acts. A simple apology and explanation may do just that.
The 2018 presidential elections – which it is speculated may be held in July – will be a major factor in how the nation moves forward. Mnangagwa has promised these will be transparent, free and fair and that he will accept the outcome if he loses. The one major problem is the visible weakness of the opposition parties. There is silence and much uncertainty regarding their ability to contest the election this year and on their ability to gain people's trust and their vote. This may mean Mnangagwa faces no opposition.
In the wake of Brexit and Trump, where countries are turning inwards so as to focus on building wealth for their own nations and their own people, is there an argument that Zimbabwe should go down the same route? Don't get me wrong. I am not against international trade and inviting foreigners to do business in Zimbabwe, but I wonder whether we should be more concerned with resuscitating our own industries with our own people first? This is a huge challenge, but in my view it is something which is achievable.
Another issue with regard to Mnangagwa's trip to Davos was the absence of Zimbabwe leaders of industry in his entourage. Shouldn't the President have been accompanied by at least someone representing the Chamber of Mines of Zimbabwe, Zimbabwe's Commercial Farmers Union or the Zimbabwe National Chamber of Commerce? Would this not have been a smart move? After all Davos is an economic forum.
Growth is a vital focus for Zimbabwe in the months ahead and, in my view, the following steps are important. The country must:
Formulate strategies which result in economic growth, especially the revival of the manufacturing industry and complete financial accountability in the mining sector.

Change its mindset from one of 'needing external help or government help' to taking responsibility for implementing change through the adoption of simple yet effective measures.

Inject new and young blood into the policymaking process.

Hold transparent elections and ensure that the ruling party submits to the will of the majority.
So where will the country go from here? Only time will tell, but as a proud national of Zimbabwe, I can only hope for the best.
*Sandile Mtetwa [2017] is doing an MPhil in Chemistry and is Chair of the regular 'Africa over Coffee' sessions at the African Society of Cambridge University. Picture credit of Emmerson Mnangagwa: Wikipedia.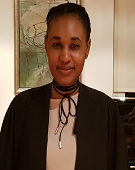 Sandile Mtetwa
Alumni
Zimbabwe
2017 MPhil Chemistry
2018 PhD Chemistry
Lucy Cavendish College
As a research scientist in Chemistry it is my desire that in a few years, the world population that currently does not have access to clean energy will be streamed down noticeably. My PHD work aims to contribute to that goal.I believe that several renewable resources should be utilized to ensure the adequate distribution of energy around the globe and solar-driven hydrogen is one of the solutions. An efficient and cost-effective way for harnessing sunlight and driving the evolution of hydrogen is critical to achieving a hydrogen economy soon. My work will be focused on a metal-organic framework (MOF)-based hybrid system that is tailormade for long charge carrier lifetime. This I will do by synthesizing: a suitable organic linker; as the photosensitizer, a robust and inexpensive semiconductor and exploring the optimum co-catalyst loading for effective reduction of hydrogen ions to molecular hydrogen. I will also consider the subsequent storage of hydrogen after its evolution by the same system. Having been a Gates Scholar during my MPhil I became privy to a wide range of opportunities and I met a wonderful network of scholars who are so passionate about their individual areas of study and are always motivated to do better. I am so honored to continue to be part of a community that continuously works towards improving peoples' lives in different parts of the world.
Previous Education
University of Zimbabwe
University of Cambridge