In April 2015, Freddie Carlos Gray, Jr. was arrested by the Baltimore Police Department for allegedly possessing an illegal knife. While he was being transported to the police station, the 25-year-old African American fell into a coma and later died. Six police officers were suspended, pending an investigation for suspected misconduct.
Under Maryland's Law Enforcement Officer Bill of Rights, internal investigators have to give officers suspected of misconduct 10 days of notice before conducting an interrogation. Supporters of the Maryland law claim that it gives officers valuable time to rest before an interrogation, thereby improving the ability of officers to recall events accurately.
But critics argue that Maryland's waiting period hampers internal investigations by allowing police officers to coordinate stories in a manner that deflects blame. Baltimore is far from the only US city to provide officers with these kinds of protections during internal investigations.
Our research shows that state laws and police union collective bargaining agreements in the US have insulated many police officers from the most successful interrogation techniques, protecting them from prosecution for alleged misconduct. That research, which is based on Atticus' MPhil in Criminology at the University of Cambridge and a previous study by Professor Rushin, will be published in the George Washington Law Review journal in Spring 2019.
The first part of the article, Interrogating Police Officers, builds upon previous studies by analysing a dataset of police union contracts and state laws that govern the working conditions in a substantial cross-section of large and mid-sized American police departments. Many of these police departments provide officers with hours or even days of advance notice before a disciplinary interrogation. An even larger percentage of these police departments require internal investigators to provide officers with copies of incriminating evidence before any interrogation. These protections exist in departments of all sizes, regardless of geographical location.
The second part of their article relies on a national survey of American law enforcement leaders to evaluate whether these regulations frustrate officer accountability efforts. The overwhelming majority of the survey respondents claimed that these interrogation regulations substantially burden legitimate investigations into officer behaviour. Virtually all survey respondents agreed that these protections do little to reduce the likelihood of false confessions.
Combined, this data paints a troubling picture of the internal procedures used to investigate and respond to officer misconduct. This data suggests that states and municipalities have given police officers procedural protections designed to thwart internal investigations, thereby limiting officer accountability. The article concludes by offering normative recommendations on how communities can reform interrogations of police officers so as to balance the community interest in accountability with officers' interest in due process.
Some of the recommendations include differentiating between criminal and administrative investigations, limiting rigid delay provisions and limiting the amount of evidence given to officers in advance of interrogations. Changing these internal policies will be an uphill battle. It will require communities to renegotiate collective bargaining agreements and state legislators to make substantial amendments to law enforcement officer bills of rights. However, they represent important and necessary reforms to ensure that police officers remain accountable to the communities they serve.
*Atticus DeProspo [2016] did an MPhil in Criminology at the University of Cambridge and is now pursuing a JD at the University of Alabama School of Law. Professor Stephen Rushin is an Assistant Professor of Law at Loyola University Chicago School of Law and an expert in the field of Criminal Law, Evidence and Police Accountability. Picture credit: Wikimedia commons and Jamelle Bouie.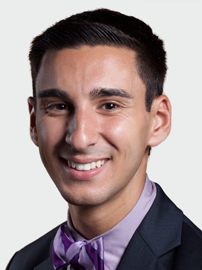 Atticus DeProspo
Alumni
United States
2016 MPhil Criminology
Darwin College
Atticus DeProspo, United States, received his B.S. degree in Industrial & Labor Relations from Cornell University, graduating with honors. He was a member of the Cornell Varsity Men's Soccer Team for four years, helping them win an Ivy League Title. Previously, he worked in Florida and Washington D.C. as an intern for Senator Marco Rubio. Atticus also interned at the Supreme Court of the United States for Justice Sotomayor. Atticus was a member of the inaugural class of the Schwarzman Scholars Program, where he graduated with a Master's degree in Global Affairs from Tsinghua University in Beijing, China. Atticus was selected as a Gates-Cambridge Scholar, where he graduated with an M.Phil. degree in Criminology from the University of Cambridge. Atticus received his J.D. from The University of Alabama School of Law. He clerked for Chief Judge L. Scott Coogler on the US District Court for the Northern District of Alabama. Atticus also clerked for Judges Peter Hall and Steven Menashi on the U.S. Court of Appeals for the Second Circuit. Currently, he works as an associate at Williams & Connolly in Washington, D.C.
Previous Education
Cornell University
Links
https://www.wc.com/Attorneys/Atticus-DeProspo
https://www.linkedin.com/in/atticus-deprospo-b27560228?challengeId=AQFmP10UHNL8sAAAAYc4BDztW10bFedB98prwDzszCvj2ncGX4c8O3FGZSNuw