The JR Biotek Foundation opens applications for its second annual international workshop and symposium.
A bioscience education-based non-profit organisation founded by a Gates Scholar has opened applications for its second annual international workshop and symposium for African researchers interested in finding practical solutions to the barriers to Africa's agricultural development.

The JR Biotek Foundation was set up by Carol Ibe [2015] before she started her PhD in Plant Sciences. Its first workshop was held in 2014 in Nigeria. The organisation aims to enhance scientific research and STEM-based education in sub-Saharan Africa.

It held a Molecular Laboratory Training workshop and an African Diaspora Biotech Summit in Cambridge last April where keynote speakers included Professor Lucy Ogbadu, Director-General of Nigeria's National Biotechnology Development Agency, and Onyekachi Wambu, Executive Director, African Foundation for Development (AFFORD), UK. Both emphasised the urgent need for the African diaspora to engage in development efforts aiming to strengthen research capacity building, innovation and commercialisation in Africa.

The purpose of the 2018 Research Capacity Building Workshop and Symposium is to help African nations build the required capacity to foster agricultural research and innovation in order to improve agricultural productivity and food security on the continent. In line with this, the JR Biotek Foundation is partnering with the University of Cambridge's Department of Plant Sciences to co-develop a Molecular Laboratory Training Workshop designed to equip Africa-based agricultural researchers and academics with knowledge and skills needed to improve the quality of their agricultural research and teaching.

Twenty agricultural research scientists, lecturers and PhD students from universities and research institutes across Africa will be selected to participate in the workshop, which takes place from 3rd to 10th September in Cambridge.

The following day the UK-Africa Food Security Symposium will build on the discussions and outcomes of the 2017 Biotech Summit. Some of the themes identified as urgent during the 2017 summit discussions will feature in panel-led sessions at the symposium: research capacity building, collaborative research and innovation, agricultural infrastructure development and science policy and governance. Participants will include workshop participants and Cambridge students and researchers. Invited guests will include early- and mid-career professionals from African diaspora communities in the UK and EU, government officials from sub-Saharan African countries, policy makers and business leaders from multinational organisations.

*To apply for the training workshop click here.
**More details about the inaugural summit and workshop can be found here.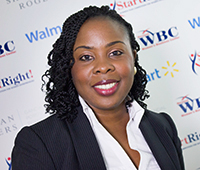 Carol Nkechi Ibe
Alumni
United States
2015 PhD Plant Sciences
Newnham College
I was born in the United States but grew up in Nigeria, where I completed a BS in microbiology. In pursuit of a better education and career, I returned to the US and did a master's in molecular biology and biochemistry with a specialization in biotechnology from the Georgetown University, and subsequently, a master's in clinical embryology from the University of Oxford. During my studies at Georgetown, I became inspired to start JR Biotek, a life science education company that provides quality biotechnology and life science education, training and laboratory capacity building programs to students, educators and scientists in Africa. My vision is to help build a powerful workforce that can advance scientific research and innovation in Africa, especially within the field of agriculture. I am also very passionate about developing more effective and practical solutions to food insecurity in sub-Saharan Africa, and this influenced my decision to study plant science. My PhD research will aim to determine the commonalities and differences during intracellular rice root colonization by both beneficial and detrimental fungi, and how these associations may be enhanced for practical agricultural applications. Rice is a major staple food in many African countries; therefore, developing rice cultivars with better adaptations to low-input rice agroecosystems is crucial for achieving food security in the continent. This is the ultimate goal of my PhD. I am deeply honored to receive the Gates Cambridge scholarship, a life changing award that would allow me to improve the lives and careers of many in Africa.
Previous Education
University of Oxford
Georgetown University