Kasun Kariyawasam speaks at UK Bridge Owners Forum on safeguarding national bridge assets in the UK against scour-induced failures.
A Gates Cambridge Scholar has spoken at a major UK meeting of bridge owners on one of the main causes of bridge erosion.
Kasun Kariyawasam spoke at the UK Bridge Owners Forum, a triannual meeting of major bridge owning organisations in the UK such as Network Rail, Highways England, London Underground and the transport authorities of Scotland, Northern Ireland, Wales and Ireland. The forum, held on 31st October 2017 at King's College, Cambridge focused on safeguarding the national bridge assets in the UK against scour-induced failures.
Scour is the erosion of soil from the bed and banks of a river channel due to the effects of fast-flowing water. High scour levels around a bridge foundation can lead to bridge instability and even collapse. Scour has been identified as one of the most prevalent causes of bridge failure around the world. For example, in the United States, scour and flooding related events have accounted for more than 50% of the reported bridge failures since 1989.
There are numerous techniques available to monitor scour, ranging from scuba divers using crude depth measuring rods to high-tech autonomous underwater vehicles. However, most of these techniques have serious limitations related to reliability, robustness and cost.
Kasun [2016] talked about the recent developments of scour monitoring techniques around the world, highlighting their advantages and limitations. Kasun, under the supervision of Professor Campbell Middleton at the Department of Engineering, is developing a scour monitoring technique that can identify structures at risk from scour which has the potential to assist bridge managers to make more reliable maintenance decisions.
*Picture of Reading Bridge courtesy of Wikipedia.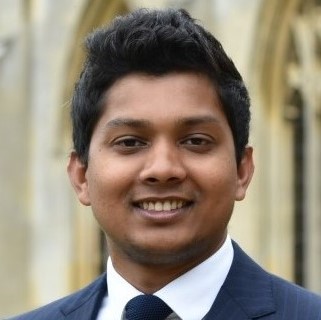 Kasun Kariyawasam Katukoliha Gamage
Alumni
Sri Lanka
2016 PhD Engineering
Churchill College
I am fascinated by bridge structures since they form the linchpins of any rail or road infrastructure network. It always astonishes me to see that more than half of the bridge failures in the world are due to a single cause called 'scour'. My main goal at Cambridge has been to tackle this cause. Under the supervision of Professor Campbell Middleton, I developed a new vibration-based approach for monitoring bridge scour. We validated the feasibility of this technique with an experimental programme involving advanced geotechnical physical modelling and a six-month field test at a bridge in Bradford UK. I am very excited about the potential of this technique to provide real-time measures of bridge scouring at a fraction of the cost of traditional methods. This Ph.D. project was nominated for Digital Initiative of the Year at the 2020 British Construction Industry Awards, Highways UK Intelligent Infrastructure Competition 2020, and The Engineer magazine Collaborate to innovate awards 2020.
I thoroughly enjoyed being part of the Gates-Cambridge community of passionate future global leaders who take up some of the most challenging research and other projects with the hope of benefiting the masses.
Previous Education
University of Moratuwa