Suyang Zhang wins Max Perutz Student Prize
A Gates Cambridge Scholar has been awarded the most prestigious prize for students at the University of Cambridge's Laboratory of Molecular Biology.
Suyang Zhang, who is doing a PhD in Biological Sciences, has been awarded the Laboratory's Max Perutz Student Prize which is named after the Nobel Laureate.
The Prize is awarded annually for outstanding work performed at the Laboratory prior to the award of a PhD.
Suyang was awarded the prize "for her elegant analysis by biochemistry and electron microscopy of the mechanism by which the key protein complex APC/C is controlled as cells go through cycles of division".
Suyang was recognised for the paper, Molecular mechanism of APC/C activation by mitotic phosphorylation, published earlier this year in Nature on which she was lead author. It revealed the molecular mechanism for activation of the anaphase-promoting complex in mitosis, a key regulator of cell division. Defects of the APC/C are frequently observed in different types of cancer so Suyang's aim is to understand how it works through various structural and biochemical approaches.
Suyang [2014] says of the Prize: "It was a great honour for me to receive this prize at the end of the second year of my PhD."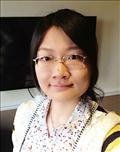 Suyang Zhang
Alumni
China
2014 PhD Biological Sciences
St John's College
Born and raised in Zhengzhou, a city in the centre of China, I moved to Switzerland with my family at 15 years old. My interest in molecular biology arose during my undergraduate studies in biochemistry at ETH Zurich, leading to my subsequent MSc studies in structural biology. My Master thesis was focused on protein synthesis in eukaryotes and resulted in the successful determination of three novel structures, furthering our understanding of this critical biological process. For my PhD study in Dr. David Barford's lab at the MRC LMB, I will be working on the anaphase promoting complex (APC/C), a key player in regulating cell cycle transitions. Defects of the APC/C are frequently observed in different types of cancers, so I hope to ultimately understand the mechanistic details of the APC/C functions by engaging various structural and biochemical approaches. I am looking forward to tackling a challenging project at the LMB and meeting other outstanding scholars in the Gates community.
Previous Education
Swiss Federal Institute of Technology Zurich MSc in Structural Biology and Biophysics 2014
Swiss Federal Institute of Technology BSc in Biochemistry 2012