Inter-generational biotech leadership summit opens for applications this month.
I have enjoyed every aspect of the summit, especially, the unique opportunity to interact and learn from current global leaders and experts in the field of biotechnology.

Carol Ibe
An inter-generational biotech leadership summit is inviting 'Leaders of Tomorrow' from across the world to the University of Cambridge to learn about the challenges facing the global bioeconomy.
The GapSummit 2016 is Global Biotech Revolution's flagship conference and was set up by a team of Cambridge University students, including Gates Cambridge Scholar Divya Venkatesh [2011] who was chief editor of the inaugural 2014 summit. Gates Cambridge Scholar Elect Carol Ibe is a GapSummit 2016 committee member. The event is organised entirely by students and early-stage professionals, to empower like-minded people embarking upon the early phases of their career to begin to implement solutions to the most pressing gaps in global biotechnology.
Speakers at the GapSummit come from across industry, research & policy. The aim of the conference is to help up and coming researchers and entrepreneurs connect with high profile guests, grow their knowledge of the bioeconomy and challenge "the established industrial dogma" through keynote talks, panel sessions, workshops and networking events.
Confirmed speakers from industry include Dr Peder Holk Nielsen, President and CEO of industrial biotechnology company Novozymes, Dr Sophie Kornowski-Bonnet Head of Roche Partnering, Dr Jeremy Levin, Chairman and CEO of neurological medicines firm Ovid Therapeutics and Fiona Cicconi, Executive Vice President of Human Resources at AstraZeneca.
Academic speakers include Professor Sir John Walker [pictured], winner of the 1997 Nobel Prize in Chemistry for his work on the structure of ATP synthase, and Dr Jim Smith, Deputy CEO of the Medical Research Council and Director of Research at the Francis Crick Institute. Dr Harold Roy Macauley, Director General of Africa Rice Centre, and Dr Mahmoud Solh, Director General of ICARDA will also be presenting their perspectives on the challenges facing research organizations committed to sustainable agricultural developments.
The GapSummit 2016 will be taking place at the University of Cambridge from the 4th-6th April. The most promising leaders of tomorrow in biotechnology and life-sciences (students, post docs, early-stage professionals & entrepreneurs) from across all continents of the globe will be carefully selected, and invited to attend.
Carol Ibe [2015], who will start her PhD in Plant Science at Cambridge this autumn and was a Leader of Tomorrow at the GapSummit 2014, said: "It was indeed a privilege to have been selected as one of the 100 Leaders of Tomorrow from around the world to participate in the GapSummit. I have enjoyed every aspect of the summit, especially, the unique opportunity to interact and learn from current global leaders and experts in the field of biotechnology.
"The networking opportunity allowed me to learn more about the different research and developmental projects going on around the world, the challenges they face and how I may be able to contribute to alleviating such problems."
In addition to her academic work, Carol founded her own company, JR Biotek, and a non-profit, JR Biotek Foundation, which provides hands-on biotechnology laboratory training courses to research students and scientists, mainly in Africa.
The GapSummit 2016 will culminate in the Voices of Tomorrow business plan competition, where the finalist teams will present their entrepreneurial proposals for helping to improve one particular aspect of the bio-economy. The most promising initiatives will be recognised and rewarded by an expert panel, with the winning team receiving further support to make their idea a reality.
The GapSummit 2016 will be welcoming applications from 19th September until 29th November 2015.
For more details visit the GapSummit 2016 website GapSummit 2016 or email lisa.altmann-richer@gapsummit.com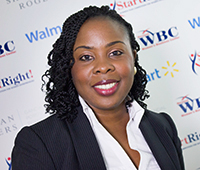 Carol Nkechi Ibe
Alumni
United States
2015 PhD Plant Sciences
Newnham College
I was born in the United States but grew up in Nigeria, where I completed a BS in microbiology. In pursuit of a better education and career, I returned to the US and did a master's in molecular biology and biochemistry with a specialization in biotechnology from the Georgetown University, and subsequently, a master's in clinical embryology from the University of Oxford. During my studies at Georgetown, I became inspired to start JR Biotek, a life science education company that provides quality biotechnology and life science education, training and laboratory capacity building programs to students, educators and scientists in Africa. My vision is to help build a powerful workforce that can advance scientific research and innovation in Africa, especially within the field of agriculture. I am also very passionate about developing more effective and practical solutions to food insecurity in sub-Saharan Africa, and this influenced my decision to study plant science. My PhD research will aim to determine the commonalities and differences during intracellular rice root colonization by both beneficial and detrimental fungi, and how these associations may be enhanced for practical agricultural applications. Rice is a major staple food in many African countries; therefore, developing rice cultivars with better adaptations to low-input rice agroecosystems is crucial for achieving food security in the continent. This is the ultimate goal of my PhD. I am deeply honored to receive the Gates Cambridge scholarship, a life changing award that would allow me to improve the lives and careers of many in Africa.
Previous Education
University of Oxford
Georgetown University