Carlos Adolfo Gonzalez Sierra talks about how his experience of being a Dreamer drives his community activism.
ACLAMO is about much more than direct services. We are dedicated to providing people with the knowledge, guidance and support they need to become self sufficient and feel empowered about their life choices.

Carlos Adolfo Gonzalez Sierra
Carlos Adolfo Gonzalez Sierra has recently accepted a new job as Associate Director of ACLAMO Family Centres, a non-profit organisation which provides educational programmes and access to social and health services to Latino and other low-income families in Pennsylvania.
He sees his own story reflected in many of the residents he now serves and works with. "I see my story and myself in many of the children and adults we serve," says Carlos. "My personal connection to ACLAMO's work drives me to become a more effective professional."
When he was eight years old, Carlos [2015] and his family moved to the United States from the Dominican Republic after his father passed away.
Seeing how his mother struggled to provide for the family gave Carlos a deep appreciation of the importance of education as an engine of social mobility. Because of his undocumented status, Carlos felt the only way he could reach higher education was to excel academically.
He pushed himself, taking the most difficult classes and participating in several extracurricular activities. He was president of the Student Council and numerous other student organisations, volunteered in the community and wrestled on the school team. As he was finishing high school, he received a letter from a programme aimed at preparing high-achieving, low-income students to gain admission and full scholarships to top-tier colleges. He applied to eight colleges but was rejected from all eight, which he attributes to his immigration status.
"That was a very dark period for me," he says. "I had sacrificed so much to learn English and catch up with my peers. I performed better than the vast majority of my classmates in high school. I contributed to my school and my community. Yet society was telling me that my efforts did not matter because I didn't have a 9-digit number? I felt betrayed."
From community college to Amherst
His mentor recommended that he go to a local community college and helped him get a place, but he had to pay twice as much tuition because he was classified as an international student. He paid for his studies through gaining several scholarships and working his way through college.
Carlos also found the time to get heavily involved in student life. He was head of the Student Government Association Executive Council, representing 25,000 students, reactivated the Latino student organisation and interned for Pennsylvania's Governor's Advisory Commission on Latino affairs, the state's leading advocacy organisation for its Latino residents.
After his first year, he applied to transfer to Amherst College and was accepted. There he majored in Political Science and Interdisciplinary US Latino Studies and chaired La Causa, an organisation which brings Latino students together to celebrate their culture and provides support. He also led student-driven efforts to include more Latino perspectives in the curriculum and to diversify the college faculty.
Carlos' undergraduate thesis detailed the prevalence of electoral clientelism – the exchange of goods and services for political support – by Dominican expatriates participating in Dominican national politics within the United States.
A trip to Brazil and his thesis cemented his interest in studying the links between social inequality, political participation and representative governance.
After seeing things from a grassroots perspective and being involved in local activism, Carlos wanted to gain policy-making experience so he applied for a fellowship in the US Congress. For six months, he worked as a legislative assistant for then Congressman Michael Honda in Washington, DC. His role focused on legislation around budgetary appropriations, immigration and Latin American affairs.
International studies
Carlos was keen to continue his studies. He applied to Cambridge to do an MPhil in Latin American Studies and was awarded a Gates Cambridge Scholarship.
His master's focused on understanding the reasons why people in the diaspora get involve in Dominican politics. He says it helped him to better understand the political and economic factors that drive immigration from Latin America to the US. He adds that the Gates Cambridge community provided him with an amazing network of people who provide ideas and support.
Carlos' life since Cambridge has been deeply affected by the changing political scene in the US, but he has remained committed to working for social justice and immigrant rights.
Following Cambridge, he won a Schwarzman scholarship to do a master's in global affairs in China starting in late 2016. He was based at Tsinghua University in Beijing and was appointed a Youth Panelist to the International Commission on Financing Global Education Opportunity during that year.
He came home in January 2017, just after Donald Trump was inaugurated as president. He then faced the very difficult dilemma of deciding whether to go back to China and whether, if he did so, he would be able to return home. Trump had pledged to end the Deferred Action for Childhood Arrivals (DACA) programme, an administrative policy that protected eligible immigrants like Carlos from deportation.
Carlos, who has grown up under the shadow of feeling his DACA status could be withdrawn at any point, waited in the US as he considered what to do, but two weeks into his second semester, he opted to risk returning to China where he finished his master's.
"I did not want my immigration status to continue to dictate my choices," he says. "I wanted to reclaim that power and make the choice for myself."
Community activism
When he returned to the United States, Carlos worked to advance immigrant rights in his home state as the Statewide Capacity Building Coordinator at the Pennsylvania Immigration and Citizenship Coalition (PICC). At PICC, he managed a statewide grants programme that funded collaborative projects to increase access to immigration law services across the state. He also registered new American citizens to vote, encouraged civic engagement and organised training sessions and other capacity building initiatives to improve the community organisational and advocacy skills of lawyers, the general public and immigrant community members.
There has reportedly been an increase in federal immigration officers in immigrant neighbourhoods since President Trump's election, including outside schools and courthouses. This atmosphere has made people worried to, for instance, report crimes in case they end up being arrested and threatened with deportation. PICC has proposed guidelines to limit police discretion to take action in such cases and has drawn attention to the risk to public safety of deterring people from coming forward to report crimes.
During his time at PICC, Carlos was also selected as a Commissioner on the Pennsylvania Governor's Advisory Commission on Latino Affairs, representing Lancaster County on the Commission. The Commission advises the governor on policies and legislation that impact the one million Latino residents in the Commonwealth of Pennsylvania.
At the beginning of this year he joined ACLAMO Family Centres which covers the Norristown and Pottstown areas of Pennsylvania. His role involves general management, strategic planning and public relations. He works closely with Executive Director Nelly Jimenez to improve internal communication and supervision systems. He says his move from PICC to ACLAMO was motivated by a desire to maintain his links with the grassroots. "I wanted to grow professionally and not lose connection to the communities I hoped to empower," he says.
In addition to education programmes, including literacy and English classes, ACLAMO addresses other issues faced by immigrants, including social isolation, which has a big impact on both physical and mental health. ACLAMO provides spaces where people can come together and build a sense of community. Health programmes also include advice on nutrition and exercise.
Although he is still interested in political advocacy, Carlos thinks that for now it is vital to address the immediate needs of disadvantaged communities. "Once you address their most pressing needs, then people have the ability to engage politically," he says. He adds: "I enjoy having a direct impact on people's lives and providing needed services does that. ACLAMO is about much more than direct services. We are dedicated to providing people with the knowledge, guidance and support they need to become self sufficient and feel empowered about their life choices."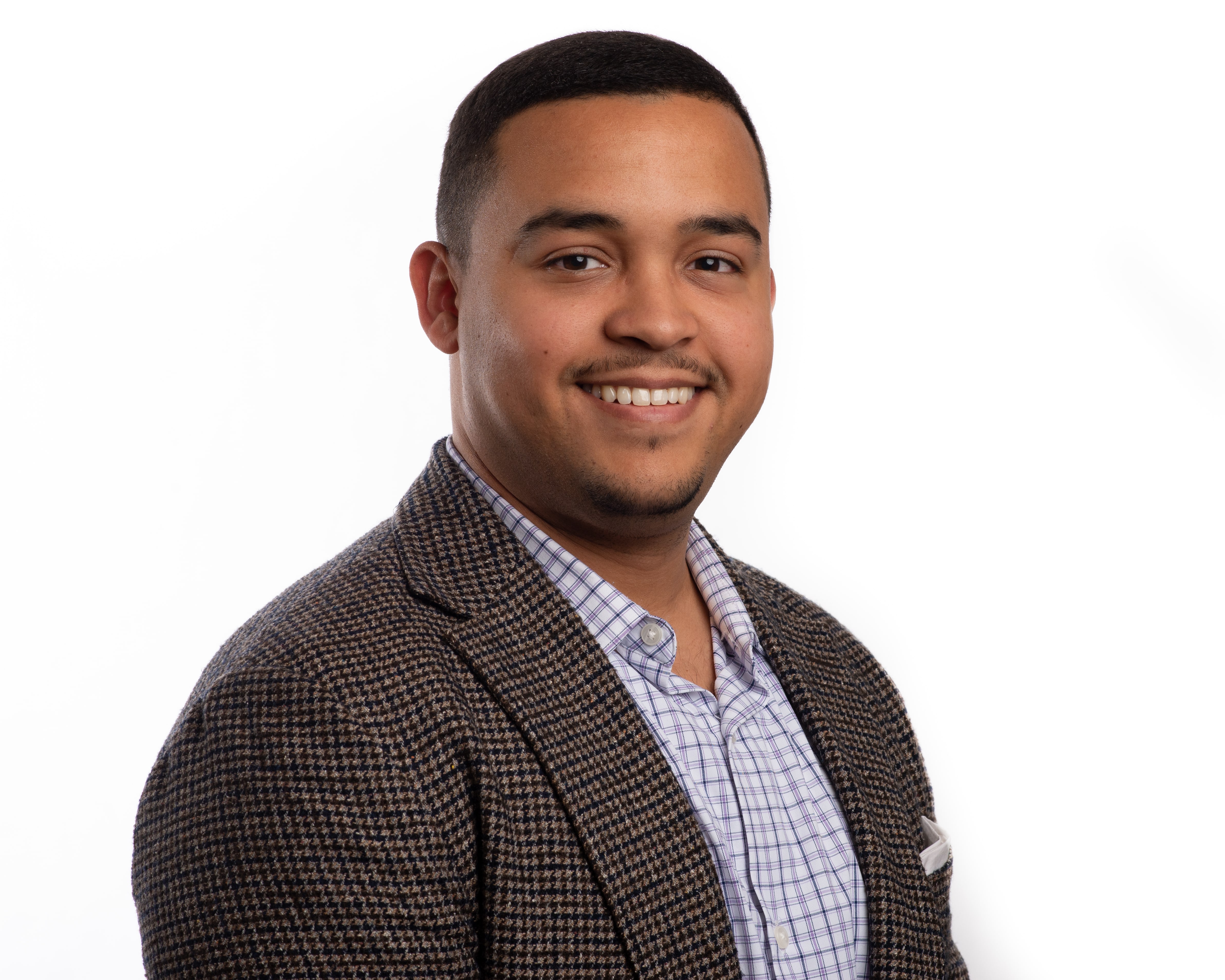 Carlos Gonzalez Sierra
Alumni
Dominican Republic
2015 MPhil Latin American Studies
Darwin College
Originally from the Dominican Republic and raised in the United States, Carlos Gonzalez Sierra is a passionate scholar, speaker, and advocate. He is pursuing a Juris Doctor and Master in Public Policy at Harvard University.
Previous Education
Amherst College
Harrisburg Area Community College