Mohammad Ghassemi talks about how he is applying artificial intelligence to medical problems.
Cambridge was fantastic. It changed my life trajectory.

Mohammad Ghassemi
How can you harness the power of big data to improve health outcomes? Mohammad Ghassemi's research applies artificial intelligence to problems in medicine. Together with his collaborators, he has collected the world's largest collection of electroencephalograms from patients who have been in a coma following a cardiac arrest. It includes data from over 1,000 patients spanning five institutions. Using a machine learning algorithm that pulls together data on multiple factors associated with coma, he reports that he has been able to predict with 84% accuracy whether a patient will wake up.
He wants to get this up to 99% and to create an authoritative predictive tool which can be used by doctors at the patient's bedside. "There may be a way that the brain reboots, depending on which part has been damaged," says Mohammad, who did his MPhil in Information Engineering at Cambridge with the support of a Gates Cambridge Scholarship. "If we see evidence that that's happening, that there is certain neuronal activity, we can ensure that the patient is kept on life support."
He has also been using artificial intelligence to address other medical issues, including how clinical sentiment might be affecting patient treatment and how to ensure patients on high-risk medication take what is the correct dosage for them. In the second year of his PhD at MIT, he published a paper describing how to generate an optimal, personalised initial dose of a common anti-coagulant, Heparin. This year he has been developing the algorithm further so that it can learn a personalised medication dosing policy and minimise the probability of misdosing accidents during treatment. He hopes to reduce the probability of misdosing by up to 70%.
Mohammad [2010] says Cambridge marked a turning point in his career. He began his MPhil doing bioscience enterprise and indeed chose Cambridge for its expertise in this area and its pro-enterprise culture, but after a month realised it was not for him and asked if he could switch to engineering.
The Gates Cambridge Trust and the people on his programme helped him make the change. He worked with Professor Dan Wolper and gained his first real exposure to machine learning. "When I started I had my heart set on working with hardware to discover how technology could make medicine better. I'm still interested in that, but I have changed the way I approach the problem and Cambridge helped me to address that," he says. "Medicine has a real big data problem. There is a lot of information and much of it is not being used at all. That's a large learning opportunity. We can use patients' histories to push medicine forward in a new direction, using large multi-scale data sets."
He is still interested in social enterprise, though, and in addition to his PhD research he has created a number of smart devices to address various social issues. In the last two years, he has set up MIT Connect, an organisation which has attracted approximately $30,000 in funds. The organisation matches up graduate students for friendship rather than romantic reasons.
It came about after one of Mohammad's graduate friends at MIT committed suicide in 2014. Mohammad discovered the incidence of suicide was fairly high among graduate students at top institutions. "I wanted to know what was driving this problem," he says. After talking to numerous students, he realised that one of the main causes was social isolation due to the intense nature of their work. Mohammad came up with an algorithm which allowed him to match graduate students with other people on campus who shared their interests. MIT Connect invites them to meet up for a free lunch on campus. "It's been a wild success," says Mohammad. "Forty per cent of the 400-500 people who have taken part have made lasting friendships. These are people who would not have met ordinarily."
He adds that the matches are intentionally cross-disciplinary to break down the silos between different disciplines. The organisation has been going for three semesters and, due to its success, MIT is considering permanent funding status. "Friendship is hugely important to people's well being," says Mohammad.
His entrepreneurial spirit has also seen him design a multi-sensor wearable that he has programmed to monitor the physiological, audio and video activity of a user to estimate their emotional reactions to given situations or people. He says he has been able to predict to within 90% accuracy whether people have had a positive or negative conversation based on their heart rate, their tone of voice and the words they choose.
Childhood
Growing up, Mohammad says his parents were a huge inspiration. His father, who was the first person in his family to go into higher education, arrived in the US from Iran and rose to professor of Chemical Engineering at New Mexico University. His mother home schooled all her children because she felt that was the best way to ensure they had an excellent foundation in life.
Both believed passionately in education. Mohammad says: "My father has a great reverence for education, believing it is the route to empowerment and that was the culture we grew up with at home." He describes his mum, a Norwegian American, as "a brilliant woman". She was all set on going to medical school when her first child was born and decided instead to dedicate herself to teaching her children. Mohammad is the third of five children.
He says his mum had high standards – 95% was a pass rate for her. Anything less was a fail. "She thought you could not move forward unless you understood the basics. She wanted to make sure we didn't have a weak foundation," says Mohammad, who grew up in Las Cruces, New Mexico. His mother had thought through the pros and cons of home schooling and, he says, encouraged independent learning from an early age. This proved invaluable to Mohammad when he started university. "She would let me get ahead on my own in the subjects I excelled in, such as maths, and then turn her attention on any weaknesses," he adds.
She taught the children in different ways. Some classes, such as art or history, were taught around the dining table in a group. Others were set individually so the siblings would study on their own. Mohammad's mother would encourage them to find solutions to any problems themselves, sometimes leaving them for an hour to work things out for themselves before giving them any hints. "In so doing, she built in us the independent curiosity necessary for doing well," he says.
He adds that the high standards at home made his first few at university quite easy by comparison. He started university at just 15 and did a double major in electrical engineering and applied mathematics with a minor in computer science at New Mexico State University, which took five years to complete. During this time, he won a highly prestigious Goldwater scholarship for maths, science and engineering undergraduates and he graduated as the University's Outstanding Engineering Senior.
Community work
He also managed to do a lot of community work. He volunteered to work at the maths centre fairly early on in his degree. One student recognised his skills in explaining things and suggested he run for Vice President of External Affairs for the university's Engineering Council. He was elected and worked hard to encourage the members to become more active in voluntary work, such as helping elderly people and orphaned children. He set up a points system which rewarded those who did the most community service and the Council won an award for being the most philanthropic engineering council in the US. Mohammad was awarded the President's Volunteer Service Award for his achievements and soon after became the youngest student in the history of his university to serve as president of the National Association of Engineering Student Councils for the western US region.
"My aim was to create a community service culture," he says. In addition, due to his interest in education, he gave workshops in science and maths at local schools and encouraged those whose families had no tradition of going on to higher education to consider it as a possibility. "I spoke about my dad and tried to motivate them," he says. "I saw students with a lot of potential and would feel devastated if they were to give up on themselves." He also became a Court Appointed Special Advocate for abused children.
Before he arrived at the University of Cambridge, Mohammad worked for three months for the Boston Consulting Group in the United Arab Emirates. He was torn, he says, between academia and enterprise because of his desire to make an impact on people's lives. Like many Gates Cambridge Scholars, he has found a way of combining the two. He hopes his research will also have a major impact on the medical world and credits Cambridge – and Gates Cambridge – with setting him on his way. "Cambridge was fantastic. It changed my life trajectory," he says.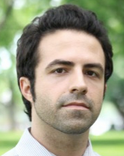 Mohammad Ghassemi
Alumni
United States
2010 MPhil Bioscience Enterprise
Girton College
Mohammad Ghassemi is an award winning scholar and entrepreneur. He holds a Ph.D from the Massachusetts Institute of Technology in computer science with a focus on artificial intelligence, and a minor in institutional communications. He is regarded for his work in creating the world's largest open access intensive care database, a wearable A.I. for social coaching and a rapidly growing platform that connects thousands of students for face-to-face meetings at six universities across the US.
Mohammad has over 10 years of experience working in technical and strategic consulting with some of the world's biggest brands (Allstate, Estee Lauder, Thomson Reuters, and Samsung). In prior engagements, he has guided innovation strategy, and built data-driven technologies that leverage AI+'Big Data' to increase customer engagement, improve cost effectiveness, and prioritize innovation opportunities. He was a recipient of the nationally renowned Goldwater scholarship, the internationally renowned Gates-Cambridge award, and several awards from the National Institutes of Health.
For his entrepreneurial accomplishments, he has received awards from, the Sandbox Innovation Foundation, The Legatum Foundation, The Mind Hand Heart Innovation Fund and MassChallenge. He was a finalist in the Bell-Labs Innovation Prize, and a recent winner of the internationally competitive MassChallenge. He holds multiple US Patents, has published a popular book on AI health applications (+150,000 downloads) and has over 20 peer-reviewed papers in several of the most highly respected scientific journals including: Nature Scientific Data, Science Translational Medicine, Proceedings of the IEEE, and the Proceedings of the Association for the Advancement of Artificial Intelligence. His many accomplishments have been featured by the BBC, NPR, The Wall Street Journal and Newsweek.
Previous Education
New Mexico State University Electrical and Computer Engineering 2008
Links
http://ghamut.com
http://ghassemi.xyz
https://www.linkedin.com/in/mohammad-ghassemi-phd-401a843