Carol Ibe's not-for-profit is holding its first African Diaspora Biotech Summit in Cambridge.
A not-for-profit organisation set up by a Gates Cambridge Scholar is holding its inaugural African Diaspora Biotech Summit in Cambridge in April.
Applications for the JR Biotek Foundation Summit opened this week. It will be held at the Sainsbury Laboratory Auditorium, University of Cambridge on Tuesday, 4th April 2017. The theme for the Summit is 'strengthening research capacity building, innovation and commercialisation in Africa'.
J R Biotek was set up by Gates Cambridge Scholar Carol Ibe [2015] before she started her PhD in Plant Sciences. Its first workshop was held in 2014 in Nigeria. The organisation aims to enhance scientific research and STEM-based education in sub-Saharan Africa.
It says the Summit was created to "provide a platform for Africa's present and future leaders and key stakeholders, including the African diaspora to better understand the key challenges hampering sustainable development in Africa, and how collaborative work can help strengthen research capacity building, innovation and commercialisation so as to create opportunities for employment, investment and sustained socio-economic growth in Africa".
Seventy delegates – graduate students and early/mid-career professionals across different disciplines and profession, including biotechnology and applied biosciences, policy, sustainable development and business will be selected mainly from the diaspora to participate in the Summit.
The Summit will include a welcome speech given by Professor Elis Ferran, Cambridge's Pro-Vice-Chancellor for institutional and international relations, a keynote address delivered by Professor Lucy J. Ogbadu, Director-General of the National Biotechnology Development Agency (NABDA), Ministry of Science and Technology, Nigeria and panel discussion sessions led by experts who have made significant contribution to improve lives and systems in Africa.
It aims to address:
· The role of modern bio-technologies in improving agricultural productivity and food security in sub-Saharan Africa by 2050
· Reforming Africa's tertiary education system to make it globally competitive
· Effective policy development and implementation strategies to accelerate sustainable development in African nations
· The role and contribution of African women and the African diaspora in building a sustainable African bioeconomy
Carol said: "I am very excited about this Summit because it provides a unique global platform for all stakeholders, at all levels of development across the globe, to better understand the real problems affecting sustainable development in Africa and to become more proactive in finding practical solutions that are tailored to these problems. This is very important especially as we have seen the recent wave of amazing 'do-good' projects and initiatives developed for Africa and Africans by individuals, organisations and partners in developed countries. Unfortunately, these solutions often do not effectively address the problems for which they are created because of a limited understanding of the depth of the problems facing African nations and the African people.
"As an African who lived and went to school there, I understand the implication of poor development across all sectors, especially the agricultural and health care sectors in the continent and how they continue to affect millions of lives on a daily basis. This was my motivation for creating the African Diaspora Biotech Summit."
Training workshop and pitch competition
The Summit takes place in Cambridge around two weeks after the Molecular Laboratory Training Workshop 2017 that JR Biotek Foundation has developed for Africa-based agricultural research scientists and academics. The training workshop will be held in collaboration with the University of Cambridge's Department of Plant Sciences from 27th March to 3rd April 2017. It will offer 20 agricultural research scientists, PhD students and academics from different universities and research institutes in Africa new knowledge and technical skills in modern laboratory techniques that can help improve the quality of their research and teaching when they return to their home institutions in Africa. Eight of the PhD students will be awarded scholarships to attend the workshop and the Summit, funded by the BBSRC Global Challenge Research Fund and Trinity College, Cambridge.
JR Biotek Foundation has also launched the NextGen Africa Bioinnovation Pitch Competition which is designed to identify and celebrate bio-innovations made to improve lives and systems and to promote sustainable development in Africa. The competition will be held during the Summit. The goal is to encourage scientists and academics to think outside the box and start looking for opportunities to solve some of the problems they face in their various institutions, communities and countries.
Carol's PhD research aims to investigate accommodation mechanisms for both beneficial and detrimental fungi in rice roots. Whilst the beneficial fungus Rhizophagus irregularis has a mutualistic association with the rice crop, the detrimental fungus Magnaporthe oryzae causes rice blast, a deleterious disease that affects between 15-30% of rice harvest in field conditions. Carol is interested in finding practical solutions to the development of rice cultivars with better adaptation to low-input rice agroecosystems, improved biofertilisation systems and the development of effective disease control strategies against rice blast.
For more information about the African Diaspora Biotech Summit 2017 and how to apply, please click here.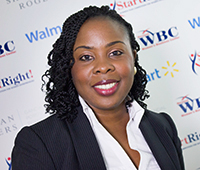 Carol Nkechi Ibe
Alumni
United States
2015 PhD Plant Sciences
Newnham College
I was born in the United States but grew up in Nigeria, where I completed a BS in microbiology. In pursuit of a better education and career, I returned to the US and did a master's in molecular biology and biochemistry with a specialization in biotechnology from the Georgetown University, and subsequently, a master's in clinical embryology from the University of Oxford. During my studies at Georgetown, I became inspired to start JR Biotek, a life science education company that provides quality biotechnology and life science education, training and laboratory capacity building programs to students, educators and scientists in Africa. My vision is to help build a powerful workforce that can advance scientific research and innovation in Africa, especially within the field of agriculture. I am also very passionate about developing more effective and practical solutions to food insecurity in sub-Saharan Africa, and this influenced my decision to study plant science. My PhD research will aim to determine the commonalities and differences during intracellular rice root colonization by both beneficial and detrimental fungi, and how these associations may be enhanced for practical agricultural applications. Rice is a major staple food in many African countries; therefore, developing rice cultivars with better adaptations to low-input rice agroecosystems is crucial for achieving food security in the continent. This is the ultimate goal of my PhD. I am deeply honored to receive the Gates Cambridge scholarship, a life changing award that would allow me to improve the lives and careers of many in Africa.
Previous Education
University of Oxford
Georgetown University