Ria Collingwood-Boafo talks about her work in education in Trinidad & Tobago and in Ghana.
"I want to use my academic qualifications and experience to make the world a better place. I cannot imagine what my life would be without Gates Cambridge."

Ria Collingwood-Boafo
Ria Collingwood-Boafo has been an activist from an early age, but she knew that to make a lasting impact she needed to be able to have a seat at the policy table.
Not only is she now working in the Ministry of Education in Trinidad and Tobago where she has taken a lead role in ensuring research findings have a concrete effect on the ground, but a programme she started as an undergraduate which has helped hundreds of Ghanaian students who were unlikely to do so get into secondary schools is still going strong 11 years after.
And she says Gates Cambridge has played an important part in shaping her work. As the first Gates Cambridge Scholar from Trinidad and Tobago, she is keen to spread the word about it in her home country. Last month she took part in the Gates Cambridge ambassador programme there.
Early activism
Ria [2008] traces her activism to her early life in Trinidad. She says the women in her family were very influential. She calls her mother and grandmother "Amazon warriors" and says they were very much the leaders in their blended family. "I never saw myself as marginalised at home because I was a woman," says Ria. However, in her secondary school years she felt silenced.
She did not conform to the traditional idea of what a woman should be and do in what was a fairly patriarchal society. Indeed her father was called in by her high school and told that she needed to be "more girlish". Ria was a bit of a tomboy and wanted to do woodwork and technical drawing, but she was not allowed to because they were considered subjects for boys. She felt socially ostracised and was labelled a troublemaker because she stood up for herself and others. She was even threatened with expulsion as her non-conformity was viewed as rude and her grades started to slip. That experience and the fact she felt silenced at school instilled in Ria a powerful desire to advocate for young people.
At around form three of high school, after some self-introspection, she adopted a more positive activism and focused on leadership. Her grades improved.
While pursuing A levels in sixth form at Arima North Secondary School, she founded and served as the president of Nation of Women, an organisation registered with the Ministry of Youth and dedicated to female empowerment and women's rights. It had 30 members, including male students, and was featured on local tv and radio. "It was about having conversations and we needed to have boys there. They are co-victims in gender stereotyping," says Ria.
The organisation, supported by the Vice-principal Mr Batson, collaborated with other organisations and coordinated events around issues such as domestic and gender-based violence. Events were organised around International Women's Day and International Day for the Elimination of Violence against Women at the school and arrangements were made for the entire school to participate. The organisation started a local mentorship programme at an orphanage, where Nation of Women members mentored, raised awareness and provided clothes and groceries to the children in the orphanage. Her work resulted in Ria receiving a nomination in 1998 for the Guardian Women of Trinidad and Tobago Award, making her the youngest nominee at the time.
Disconnect between policy and practice
After school, Ria worked as a trainee in the Ministry of Health focused on HR issues in a local hospital. At the same time she was heavily involved in youth work in her region of St George East as a member of the St George East District Youth Council and a youth representative at the Inter American Development Bank country office in Trinidad and Tobago.
However, she recalls sitting in meetings thinking that unless she could influence policy nothing would change. "There was a disconnect between policy and practice," she says. She felt she needed to leave Trinidad in order to get the experience and the global perspective she needed to be able to return and make a difference.
She applied to the Borough of Manhattan Community College (BMCC) in the US to do an associate degree in liberal arts with a focus on politics and economics. While she was there she continued her activism as a senator and organised the Let's Work to Resolve the AIDS Pandemic Campaign, where she partnered with the Hispanic AIDS Forum in NYC to provide free HIV testing for students and to promote awareness and information to reduce HIV-related stigma and the risk of HIV infection. In 2005, Ria graduated from BMCC as a Belle Zeller Scholar and travelled to Ghana to pursue a summer programme in African Studies at the University of Ghana. She also transferred to Stanford University where she started as a pre-law student, but switched to a major in social anthropology with a minor in African Studies. "I was very interested in how people make meaning out of life and how that applies in different regions," she says.
At Stanford, she was Vice-president (Membership) of the Caribbean Students' Association (CSA), with her main role being to increase the visibility of the Caribbean at the university. This included making lunchtime presentations on the Caribbean Community (CARICOM) at CSA's general meetings and co-designing as well as co-lecturing on a course that examined how race is constructed, performed and contested in the Caribbean and United States. Ria was particularly interested in intra race relations and Africa-Diaspora relations with an emphasis on the historical and cultural links between African, African Caribbean and African American people.
Ghana
In 2006, she returned to Ghana to run a three-week summer camp for girls, partnering with a local Catholic school and building on her Nation of Women work. The course focused on maths, English and life skills and targeted junior high school students preparing to sit the Basic Education Certificate Examination (BECE) required for certification and selection to senior high schools and technical institutions. It aimed to support their academic aspirations and provide them with the skills to progress in the education system.
The Poised for Success Academic Enrichment camp was organised with funding from Stanford's Haas Centre for Public Service which places an emphasis on community partnerships and meant the initiative had to be driven by community demand and have community buy-in.
Its success, recognised by the Ghanaian Education Service, encouraged Ria to develop the initiative since she realised three weeks was not enough to have any sustained impact. So she decided to look for funding to extend it to after school clubs for a year taught by the summer camp teachers.
Ria returned to the US and while presenting at a symposium at Stanford, she met Stanford alumnus James Sobieski who, along with past colleagues of the Borough of Manhattan Community College, gave her the money to cover after-school lessons and school suppies for all 20 camp participants. James Sobieski and his wife Kathryn continued exclusively funding the programme when Ria graduated from Stanford and have contributed to its enhancement.
In 2007, as a result of the input of her community partner, headmistress Madame Charity Foli, the programme was adapted to include boys, who often dropped out of school during fishing season. The student intake in the programme was also increased to 30 and a youth entrepreneurship programme was introduced.
In 2008, the programme was expanded to include six schools in the area and two districts with places for 60 students. It now also included science and computer literacy as well as a residential academic camp prior to and during the BECE since some of the children didn't have electricity in their homes which limited their ability to study.
Ria says that before the programme started the majority of the students it targets did not sit the entrance exam for secondary school or failed it. In recent years, all the students participating in Poised for Success have passed the exam. Students' achievement is celebrated at a graduation ceremony.
This year is the programme's eleventh year and Ria says the focus now is on providing health and character development training to students and building its alumni network. The programme is also focused on improving student performance and getting students into the best secondary schools. "If you get a higher mark in the exam you are more likely to get into elite schools," says Ria.
Ria and the programme partners, including James Sobieski and Madame Foli, are exploring options for long-term funding for programme sustainability.
Gates Cambridge
Amidst all this activism, Ria applied for a Gates Cambridge Scholarship in her last year at Stanford. She was accepted, but deferred her course for a year to take up the Tom Ford Fellowship in Philanthropy at the Partnership for Higher Education in Africa (PHEA) located at New York University's School of Education. At PHEA, Ria worked under the supervision of Dr Suzanne Grant-Lewis and conducted a grants database analysis to identify where the higher education grant funding was going and how it could be focused for the duration of the partnership. She provided research support on how grant initiatives could be directed more towards the recruitment, retention and development of young African scholars at African Higher Education Institutions in order to tackle the problem of brain drain in the region.
In 2008, Ria came to Cambridge to pursue an MPhil in International Relations. Her thesis centred on the African Union, which has an African Union Commission (AUC) based in Ghana, and its return migration policy aimed at generating homegrown and indigenous solutions. Her research encompassed not just recent graduates who had left the continent voluntarily, but also people with African roots, such as those whose ancestors had been forcibly removed from their countries as a result of slavery.
"I was looking at the kind of rhetoric used, how you create a sense of belonging and community to Mother Africa and persuade people to invest in and feel a sense of responsibility for Africa's development," says Ria. At Cambridge, she was a member of Nation Changers at Faith Life Church Cambridge where she had the opportunity to engage in faith-based activism as a change agent for a better world. Ria says: "Everything I am and have done is attributable to God and my belief that my gifts and talents are meant to serve a purpose beyond myself."
She left Cambridge in 2009 at the height of the recession, having been an active member of the university and Gates Cambridge communities. She taught on the Oxbridge academic programme during the summer, worked in London as a tutor, and freelanced as a guest blogger on African and Caribbean literature with Ayebia. She then went back to Cambridge to work as an administrator in a local church and returned to Trinidad with her husband, who is Ghanaian, and her first child.
Since then Ria, who now has two young children, has been working in the Ministry of Education as an Education Research Specialist and Programme Coordinator of the Inter-American Development Bank (IDB) and Ministry of Education Technical Cooperation Grant to support the enhancement of the country's education strategy. Her work includes strengthening the Ministry's capacity to conduct and use research to improve educational policies, practices and programmes. She is also responsible for leading a team of research specialists in developing the Ministry's Strategic Research Agenda which will complement the Ministry's five-year education sector plan.
Ria and her team play the role of knowledge brokers and create opportunities for sharing research findings through 'brown bag' sessions and research colloquia with stakeholders led by experts. "The research is focused on how we can demystify research," says Ria. That includes training beginner teachers through the Ministry's teacher induction programme in how to conduct action research to improve their teaching practices and student educational outcomes. In 2014, Ria spearheaded the Ministry's inaugural research in education symposium that included leading scholars, policymakers and practitioners and focused on closing the evidence-to-practice gap.
Ria's states that a lot of her work is inspired by her times as a Gates Cambridge scholar. For instance, the brown bag sessions are based on Gates Cambridge seminars and the research forum is based on her experience at Cambridge of the importance of having an international input into research questions.
She is now looking at creating a Poised for Success alumni programme based on the Gates Cambridge's model and, as a Gates Cambridge Ambassador, she wants to contribute to the creation of networks of like-minded people – another key element of the Gates Cambridge mission. "I want to use my academic qualifications and experience to make the world a better place. I cannot imagine what my life would be without Gates Cambridge," she says.
*Picture credit: Ria in the centre in blue at the Poised for Success Camp Graduation.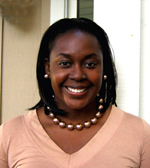 Ria Collingwood
Alumni
Trinidad and Tobago
2007 MPhil International Relations
Queens' College
At the University of Cambridge, I will pursue a MPhil in International Relations. My research will focus on the African Union (AU) 6th Region Diaspora Initiative which seeks to foster economic and socio-political relationships between Africa and the African Diaspora. More specifically, I am interested in the potentialities and limitations of invoking Pan Africanism as a means of achieving regional development throughout the African continent. In addition, I seek to understand the ways in which regional institutions such as the AU promote or challenge normative assumptions of the nation-state. I am confident that Cambridge University will provide me with the necessary academic mentorship and theoretical framework to pursue meaningful research. As a Gates Scholar and Cambridge graduate, I hope to provide consultation on regional and developmental projects within Africa and the Caribbean.