Scholar-Elect Muhammad Iqbal speaks about his research into the pathology of Staphylococcus aureus and his experience of starting up a herbal medicine business in Indonesia.
We want to examine all the possible pathways, including unanticipated ones, that occur in the encounter of Staphylococcus aureus with neutrophils.

Muhammad Iqbal
The problem of antibiotic resistance is a global one, forecast to cause up to 10 million deaths a year in the near future. In Indonesia efforts to stop its progress are hampered by a lack of research in biomedicine, the absence of a centralised medical record system for healthcare providers and the fact that people can get access to antibiotics without a prescription and tend to stop taking them as soon as they feel better rather than completing the course.
"It is very much a hidden crisis," says Muhammad Iqbal.
His PhD, which he begins in the autumn, will help address the pathology of Staphylococcus aureus infection in the human body. The bacterium is related to MRSA, an antibiotic-resistant strain of S. aureus which is now at epidemic levels worldwide.
Muhammad will study how neutrophils, the white blood cells which form the core of the human immune system, respond to Staphylococcus aureus by investigating the vast network of unexplored interactions between the immune cells and the bacteria through a non-biased, large-scale technique, called phosphoproteomics. He ultimately hopes to create new effective drugs to treat infection. "We want to examine all the possible pathways, including unanticipated ones, that occur in the encounter of Staphylococcus aureus with neutrophils and see how they can be harnessed to create non-antibiotic drugs that improve neutrophil effectiveness in fending off pathogens," he says.
Muhammad's own pathway to a PhD in Pathology has not been linear and has involved manufacturing and selling products made from propolis, a resin-like material made by honey bees, setting up an apiary and mentoring the students who ran it.
His business experience is linked to his research into the anti-bacterial properties of propolis and it was his interest in finding out more about the immunomodulatory properties of propolis that led him to Cambridge. Honey-based products are very popular in Indonesia, which has a booming herbal medicine market, due, to a certain extent, to the high cost of imported drugs. Muhammad is keen to establish a sound scientific basis for the production of good quality, effective treatments in his country.
The life of a scholar
He has been inspired in part by one of Indonesia's greatest philosophers, Hamka, who was born in the lakeside village his family comes from.
Although Muhammad was born in Jakarta, his family is from the multi-ethnic Minangkabau highlands of Sumatra. He got more chances to visit the village after his father, who is a rice and orange farmer, moved back there. Muhammad says that Hamka's legacy has had a lasting influence on him and encouraged him to embrace the life of a scholar.
The youngest in his family, he says his mother and stepfather, who is a lecturer, gave him a lot of attention as a child and encouraged him in his studies. He soon developed a keen interest in biology and chemistry at secondary school and decided he wanted to become a medical researcher.
Muhammad did his undergraduate degree in Medical Biotechnology at the University of Indonesia where he also developed his interest in environmental issues. He and his fellow students founded a student environmental organisation which focused on waste segregation. In collaboration with a local waste recycling company, they made a waste segregation system and created an awareness campaign on the importance of waste management for students and staff. This project continues and Muhammad is now an adviser on it.
During his four-year course he was involved in two very different research projects. One was on protein engineering. Muhammad established an efficient pilot-scale system to produce recombinant soluble apoptin, a selective tumour-killing protein derived from a chicken anaemia virus gene, using Bacillus subtilis as the host. The research was published in the journal Microbiology.
The other project involved propolis and was the precursor to Muhammad's business start-up. Between completing his undergraduate degree and starting his master's, he worked with his lecturer to manufacture propolis products including propolis soap to treat infective leucorrhoea in women and propolis candy to treat dental diseases, the latter in collaboration with the School of Dentistry at the University of Indonesia. "It was my real first step to pursue my dream of becoming a drug researcher and developer," he says.
The propolis-based business expanded and, before he left Indonesia, the team built an apiary in the Indonesian village of Sukabumi with the support from the local people. Local students from a traditional religious school worked on the project, and Muhammad used to visit once a week for seven months. "It was a very enriching experience for me and taught me to be a better human, despite the long eight-hours of travel I went through every week to get there and back," he says, adding that he acted as a science and English teacher to some of the students as well as giving them advice on how to get into university. Two of them are now studying at Al-Azhar University in Egypt, one of the most prestigious universities for Islamic theology in the world. "That seven months was a journey of overcoming odds, creating brotherhood, taking responsibility and learning another perspective on life from the students' modesty and humility," he adds.
It also gave him a taste of the herbal medicine business, but Muhammad realised that, to produce effective drugs, he needed to improve his research skills in translational biomedicine.
Cambridge
As the research environment for biomedical research in Indonesia is limited and because he wanted to pursue his work at an internationally renowned university, he applied to the University of Cambridge. Muhammad got a presidential scholarship from the Indonesian government to do an MPhil in Pharmacology. His initial intention was to look at how propolis might be used to modulate the immune system, but after conversations with his supervisor he opted to focus on tumour angiogenesis.
"I wanted to understand the chemical properties of my propolis samples using liquid chromatography and see if they could hinder angiogenesis, the process known to support the formation of cancer cells," he says. He adds that the MPhil helped to improve his research skills and set him up for his PhD.
Muhammad finished his MSc in 2017 and then worked with his supervisor in Cambridge and his supervisor in Indonesia on a paper on his research. He also moved temporarily to the Netherlands where his wife was doing her PhD and took a job working on quality control in a pharmaceutical and food consultancy company. This gave him another perspective on the drug manufacturing process.
For his PhD, he has received a Gates Cambridge Scholarship. He says that he was not confident he would get it, given his non-linear cv. Nevertheless, the broad experience he has gained has helped him develop a wider view of drug development. Moreover, he is very committed to the Gates Cambridge mission. "My aim is very much to improve the lives of others and I feel that drug discovery is a way I can have a significant impact on people's health outcomes," he says.
*Picture: Muhammad with his wife Alifah who is now finishing her PhD in Computer Science at Einhdoven University of Technology.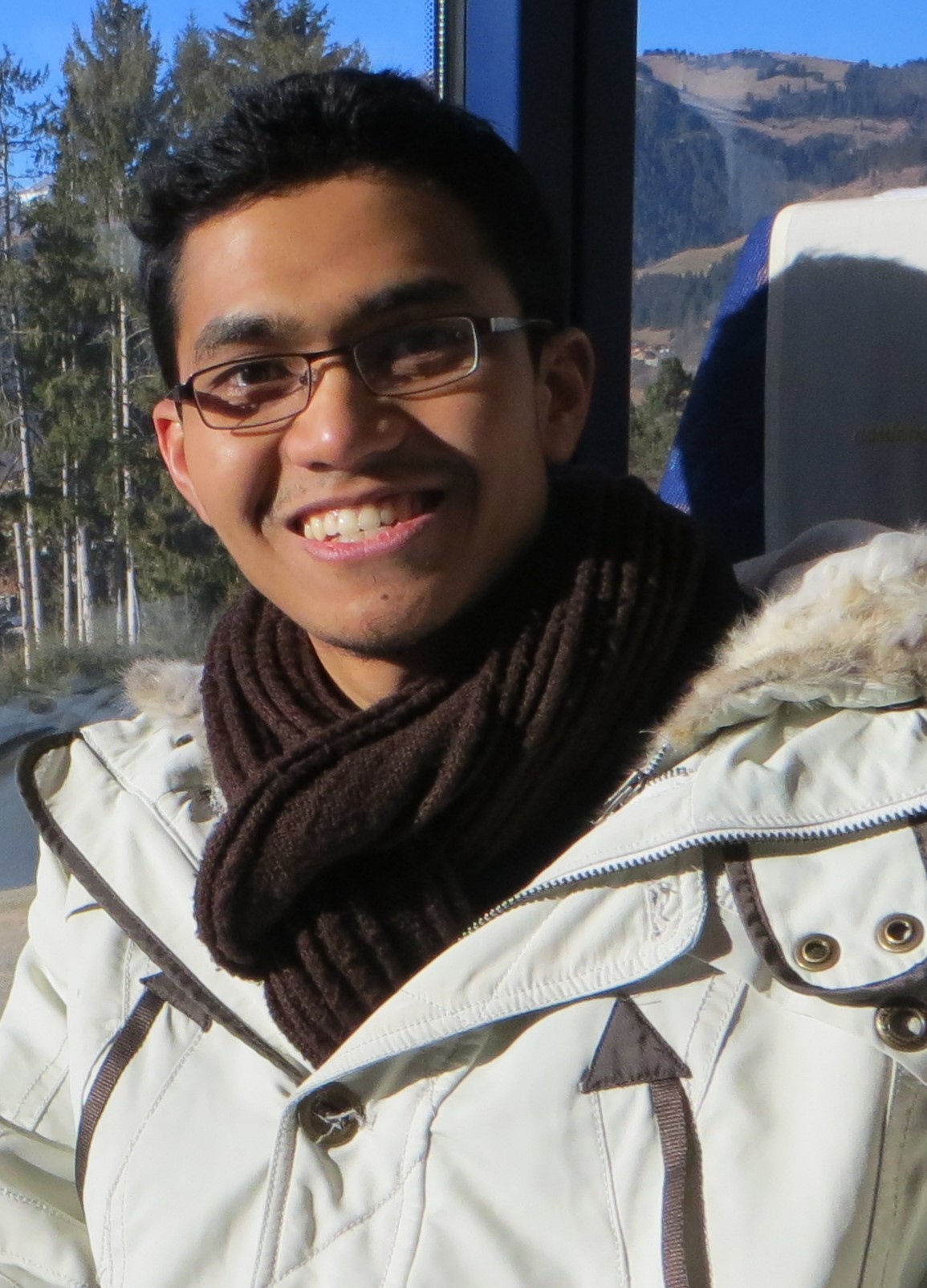 Muhammad Iqbal
Scholar
Indonesia
2019 PhD Pathology
Downing College
Since completing school education, I have had a firm intention to become a biomedical researcher who can translate research queries into practical application for the Indonesian people. My journey towards that dream is always challenging, but interesting and full of contemplation at the same time. I have gone through a set of diverse experiences at the past to finally formulate my own direction for this dream; from being a bioengineer that produced a cancer cell-specific inducer of apoptosis from a chicken anaemia virus gene to founding my own start-up company focusing on natural product utilisation for bacterial infections. Now, I am directing my future to become an immunologist that aims at ending the global issue of antibiotic resistance. To this end, I am looking forward to enhancing my skills in research by undertaking a PhD with Prof Okkenhaug & Dr Conway Morris, where I will investigate how we can manipulate the human neutrophil phosphoproteomic response to Staphylococcus aureus and identify potential non-antibiotic therapies for augmenting the host clearance of this crucial pathogen. This degree will be paramount for me to establish biomedical research environment in Indonesia and help developing Indonesian biopharmaceutical industry. Such work will be of relevance to many similar nations, and will help address the global burden of infectious diseases. In my spare time, I love spending time with my family and friends & writing my bioscience blog at iqbalmuhammad.com.