Sarah Mummah's app aims to encourage people to eat more vegetables.
It's an opportunity to take the best of both worlds, something that combines the latest in design-based approaches with decades of academic research in behavioural science.

Sarah Mummah
Can an app make people eat more healthily? Sarah Mummah has been working on a mobile app that promotes the eating of vegetables and her pilot test results, which she presented at an international conference in Scotland in June, show significant success.
Sarah has long been interested in healthy eating and, while an undergraduate, set up DreamCatchers, an award-winning non-profit tutoring and mentoring organisation for poorer children in California which includes a healthy behaviours programme.
When she first came to Cambridge to do her master's in 2012 she wanted to understand how to promote healthy eating and healthy behaviour. She researched nudge interventions to promote healthy eating among children in school-based settings.
For her PhD in the Behavioural Science Group in the Department of Public Health and Primary Care, which she began in 2013, she is investigating how mobile technology can scale behavioural interventions to encourage people to eat more healthily. Her work marries her interests in health behaviour change and mobile technology which enables interventions to be both individually tailored and widely disseminated.
As she was starting her PhD, she sought out experts in nutrition and behaviour change not only at Cambridge but also at her undergraduate university, Stanford. "When I realised there was a chance to create a collaborative partnership for my doctoral work, I jumped at the opportunity," she says. She now commutes between Stanford and Cambridge, working with Professor Stephen Sutton, Head of the Behavioural Science Group at Cambridge and expert in theory-based behaviour change interventions, and Professor Christopher Gardner, director of the Nutrition Studies Group at Stanford. "It's really great to be working in Silicon Valley, the hub of technology start-ups. We used theory and evidence to put together an app that is very user-friendly and fun to interact with," she says.
Health apps are becoming more popular, but Sarah adds that many are not based on evidence from behavioural science about what works to change behaviour. "It's an opportunity to take the best of both worlds, something that combines the latest in design-based approaches with decades of academic research in behavioural science," she says.
Logging vegetable consumption
Sarah says eating patterns are comprised of a complex set of behaviours so she decided to focus on one aspect of diet which is heavily linked to healthier outcomes and is "countable and actionable". "We selected our target behaviour to be greater consumption of non-starchy vegetables, vegetables that are highest in nutrients and lowest in calories," she says. "Most food-tracking apps are notoriously cumbersome," she adds. "They have lots of drop down menus. We wanted to rethink that process and not be bound by what most app developers are doing."
She conducted in-depth interviews with users and discovered that the act of regularly recording one's food consumption was critical to any attempts to facilitate changes in behaviour so there are push notifications to remind users if they haven't recorded their vegetables for the day. Most people track once a day and there is a daily reminder sent at 9pm.
It was also important that the app was as simple and easy to use as possible. "It was a difficult balancing act to craft an approach that would be both simple and accurate," says Sarah. In the end she went for an app which involves users tapping on icons representing each vegetable type which light up when they are tapped. Nutrition recommendations emphasise eating between three and five portions of vegetables per day, but Sarah says she wanted to go a step further so she turned eating more vegetables into a game. The app includes surprise challenges and a leaderboard so you can compete with others using the app. Sarah hopes to create a new feature to allow people to add their friends and family members onto the app too.
"It was an exciting challenge to build a monitoring app for healthy eating. With physical activity you can place a monitor on a user to passively track their movement, but with eating you have to rely on the user actively remembering and reporting what they've eaten. So for the app to be effective, we had to make sure it fully leveraged the power of behavioural strategies to draw users in and engage them in recording their behaviour on a daily basis," says Sarah.
A randomised controlled pilot trial of 17 people selected from a group of 600 people involved in a weight loss experiment at Stanford showed the app increased people's vegetable consumption. "We were pleased to find such strong results in the pilot study," says Sarah. The next step is a larger randomised trial of 130 people, half of whom are being given the app and half of whom aren't. The results will be analysed in November. The app, which is currently available on iPhone, will have an Android and Apple Watch version soon.
Sarah, who is still the president of DreamCatchers, is keen to reach a wider audience with the app. "As my research wraps up, the next step is to make the app publicly available so more people can start to use and benefit from it," she says. "Probably the most exciting aspect of working on mobile technology is that if you build an intervention that works it can be immediately scaled to reach the masses."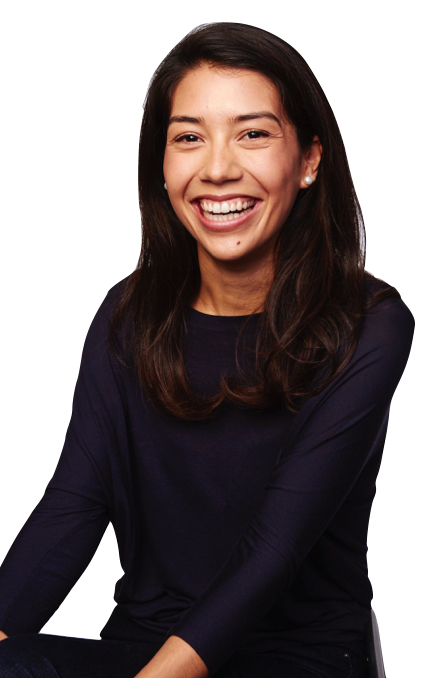 Sarah Mummah
Alumni
United States
2012 MPhil Public Health and Primary Care
2013 PhD Public Health and Primary Care
St John's College
At IDEO, Dr. Mummah leads design thinking processes to guide innovation and behavior design for products, systems, and services. She has advised Fortune 500 companies and startups including Google and Facebook and works across a range of industries including technology and health. Previously at Stanford University, she developed a framework to guide behavior design, and she created a mobile app, Vegethon, to motivate healthier eating behaviors. Her work received international recognition and was proven effective in clinical trials. Outside of IDEO, she is the Founder and Board President of DreamCatchers, an award-winning nonprofit organization she launched in 2008 to help low-income students thrive in school. A Fulbright Scholar and two-time Gates Cambridge Scholar, Dr. Mummah holds three degrees from Stanford and Cambridge Universities, including a Ph.D. in Behavioral Science. www.sarahmummah.com