Carol Ibe has been awarded a prestigious award for her research into a fungus that can destroy up to 30% of rice in a field.
This novel finding could be applied towards the development of effective disease control strategies against the rice blast disease, which can destroy up to 30% of rice in the field.

Carol Ibe
A Gates Cambridge Scholar has been awarded a highly competitive Cambridge Society for the Application of Research PhD Student Award.
Carol Ibe [2015] is the first black student to win the award, which recognises outstanding research with real world application and assists students to pursue their research or careers. She won for her PhD research, which has discovered the regulatory role of three rice receptor-kinases during intracellular accommodation of a rice leaf pathogen (Magnaporthe oryzae) in rice roots. Carol says the finding potentially describes a new mechanism adopted by the pathogenic fungus to trick, invade and gain control of the host plant machinery, and subsequently cause disease in the crop. She adds: "This novel finding could be applied towards the development of effective disease control strategies against the rice blast disease, which can destroy up to 30% of rice in the field."
The awards, which come with a cash prize of £1,000, were presented by Professor Andrew Neely, Pro-Vice-Chancellor for Enterprise and Business Relations at the University of Cambridge on Tuesday.
Carol was one of 12 winners who were shortlisted from more than 200 candidates.
In addition to her research, Carol is the founder of the non-profit organisation JR Biotek Foundation which provides high-quality scientific laboratory training and teaching resources to Africa-based research scientists, lecturers and students. It has just held a workshop in Benin which trained 100 agricultural researchers from 19 African countries. It also holds an annual Molecular Laboratory Training Workshop and a UK-Africa Food Security Symposium at the University of Cambridge. Carol took part in the Bill & Melinda Gates Foundation's Grand Challenges meeting in October to speak both about her PhD research and her work with the JR Biotek Foundation.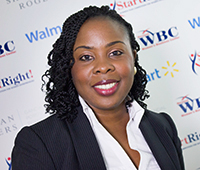 Carol Nkechi Ibe
Alumni
United States
2015 PhD Plant Sciences
Newnham College
I was born in the United States but grew up in Nigeria, where I completed a BS in microbiology. In pursuit of a better education and career, I returned to the US and did a master's in molecular biology and biochemistry with a specialization in biotechnology from the Georgetown University, and subsequently, a master's in clinical embryology from the University of Oxford. During my studies at Georgetown, I became inspired to start JR Biotek, a life science education company that provides quality biotechnology and life science education, training and laboratory capacity building programs to students, educators and scientists in Africa. My vision is to help build a powerful workforce that can advance scientific research and innovation in Africa, especially within the field of agriculture. I am also very passionate about developing more effective and practical solutions to food insecurity in sub-Saharan Africa, and this influenced my decision to study plant science. My PhD research will aim to determine the commonalities and differences during intracellular rice root colonization by both beneficial and detrimental fungi, and how these associations may be enhanced for practical agricultural applications. Rice is a major staple food in many African countries; therefore, developing rice cultivars with better adaptations to low-input rice agroecosystems is crucial for achieving food security in the continent. This is the ultimate goal of my PhD. I am deeply honored to receive the Gates Cambridge scholarship, a life changing award that would allow me to improve the lives and careers of many in Africa.
Previous Education
University of Oxford
Georgetown University