Ukrainian poet Iryna Shuvalova will research how poetry helps people to cope in war.
Because of my country's colonial past, the majority of Ukrainians were either prevented from acquiring literacy or discouraged from communicating in their own language. Sung poetry often remained their only available means of self-expression. In many ways, I owe the honour of having been selected as a Gates Cambridge scholar to these unsilenceable people of mine.

Iryna Shuvalova
What is the role of poetry in war? How can it help people to cope with violence, fear and loss? Award-winning Ukrainian poet Iryna Shuvalova will investigate the role of poetry in conflict for her PhD in Slavonic Studies, starting this autumn.
Under the supervision of Ukrainian studies expert Dr Rory Finnin, she will focus on folk songs and the oral poetry tradition in Ukraine and its connections to contemporary written poetry, particularly with regard to the war in Eastern Ukraine, examining how poetry can contribute to cultural strategies for handling war-inflicted trauma.
She says: "If you look at the Ukrainian folk songs and poems from past centuries the shadow of conflict often permeates even the love songs and lullabies. Now we are living with war again and I do not know a family in the country who is not affected. It is important to look at how poetry can help people to cope."
Iryna believes oral poetry is central to Ukraine's history. She says: "Because of my country's colonial past, the majority of Ukrainians, including my great-grandparents and their ancestors, depending on the political situation or historical era, were either prevented from acquiring literacy or discouraged from communicating in their own language. Sung poetry often remained their only available means of self-expression. In many ways, I owe the honour of having been selected as a Gates Cambridge scholar to these unsilenceable people of mine. Through my work I seek to rediscover their lost voices, and make them heard."
That mission is an intensely personal one for Iryna. Although both her parents went to university, her grandparents were never educated beyond primary school. "They were peasants, rooted in the land," she says.
For Iryna, poetry is central to understanding human experience in all its diversity and she is committed to enabling the most marginalised in society to express themselves. This commitment has not been without personal danger.
A few years ago, she became involved in a project to publish the first book of writing by LGBT writers in Ukraine. The project involved coordinating a team of more than 40 writers, translators and academics from 15 countries. Despite threats and physical attacks from ultra-right organisations, she says the book managed to provoke an important debate on LGBT writing in Ukraine. Iryna also directed the literary section of the 'Woman3000' project, touring Ukraine in 2010 to give readings and provoke discussions about women's role in society.
She has taken these experiences forward through a series of open lectures and workshops aimed at helping people to express themselves in writing.
Childhood and early academic studies
Iryna's own interest in poetry began with a fascination for rhymes as a toddler. She wrote her first poem at the age of five. Her first serious poems were published when she was 14 and before that she wrote for school and local newspapers. She credits her mother with encouraging her creative skills, including painting, dancing and writing.
She was a good student, interested in the world around her. When she was 15 she took part in the Future Leaders' Exchange Programme run by the US Department of State and spent a year in a small town in rural Tennessee, getting to see a very different way of life. Later on, she continued to travel, study abroad, volunteer and take part in literary projects. Those experiences have stayed with her and this year she joined the Board of ConnectUkrainians – a network of volunteer mentors sharing their study-abroad experience with prospective students. She will continue as a mentor during her PhD studies.
By the time she finished school in 2003 she realised that she didn't want to tread the same path as many of her fellow students. The country was recovering from a difficult economic and political period. Her family was very poor. People were choosing safe options at university like economics or law, but she knew that was not for her.
Iryna applied to Taras Shevchenko National University of Kiev to study Philosophy and won a full scholarship. She says it was one of the most wonderful things to happen to her. "I learned how to think in structured way, to reflect on how I think. I also mixed with a very diverse group of people," she states.
After finishing her undergraduate degree, she did a master's in Philosophy, also at Taras Shevchenko National University of Kiev, and took her first steps in teaching there, something she has continued as an independent lecturer and trainer.
For her master's, she was particularly interested in the language of poetry and how language can grow and develop when it is not limited by a utilitarian approach. One of her big inspirations was the Ukrainian-born philosopher Gustav Shpet who combined phenomenology, hermeneutics and a love of poetry.
Translation and comparative literature
Iryna then did a part-time specialist degree at Kiev Institute for Translators and Interpreters, with a focus on poetry translation, particularly the poems of Ted Hughes.
Over the last few years she has translated a number of literary works from English to Ukrainian and vice versa. These include Yann Martel's 'Life of Pi', Ted Hughes's selected poems and she is currently working on Virginia Woolf's 'To the Lighthouse'.
As Ukraine does not have the Comparative Literature programme she wanted to do, Iryna applied for and won a Fulbright scholarship in 2013 to return to the US to do a master's at Dartmouth College. The Maidan revolution happened while she was away and then the war with Russia began. "At many points I was on the verge of going back home, but my family said not to. What I was getting was priceless. The programme was indeed amazing and gave me the chance to engage with a very advanced academic community and to tutor students in writing, which I loved," she says.
Her final project involved a comparison of Ted Hughes' poetry with that of the Russian poet Arseny Tarkovsky and she says the course fuelled her desire to do a PhD.
During all her studies, Iryna has done voluntary community work with the European Youth Movement and in the US. The former has meant travelling across Europe to work on projects. Iryna has also combined her studies with journalism and later on switched to admissions consulting, helping students from Eastern Europe, and latterly has been working with a Vietnamese education hub.
Writing
Iryna had been writing and performing – recently with a musician and video artist – throughout her time at university. She published her first book of poetry in 2011 and has written three more collections, with the last collection due out shortly. Her poetry has been translated into nine languages and she has won numerous awards, including first prize in the most prestigious national competition for young poets, is a judge for national literary prizes and has been Head of International Development for the Ukrainian Literary Centre since January 2015.
Over the years, she has experimented with different writing styles and she has recently moved from regularly rhythmic patterns to free verse. In addition to the role of poets in times of war and violence and the oral tradition, she is also interested in myth. "I am interested in creating my own personal mythology, using symbols from the world of nature," she says. "My poetry is very tactile. I do perceive language as very physical. Rhyme and rhythm shape language. I love how language becomes physical."
When she comes to Cambridge Iryna will be accompanied by her 12-year-old daughter Mariana who will be attending a local school. "We have no doubt these years will be a fascinating experience for both of us," she says.
In future, Iryna hopes to continue to combine her writing and translation work with college-level teaching and academic research. "It allows me to bring together two things I find particularly enjoyable: working with people and working with words," she says.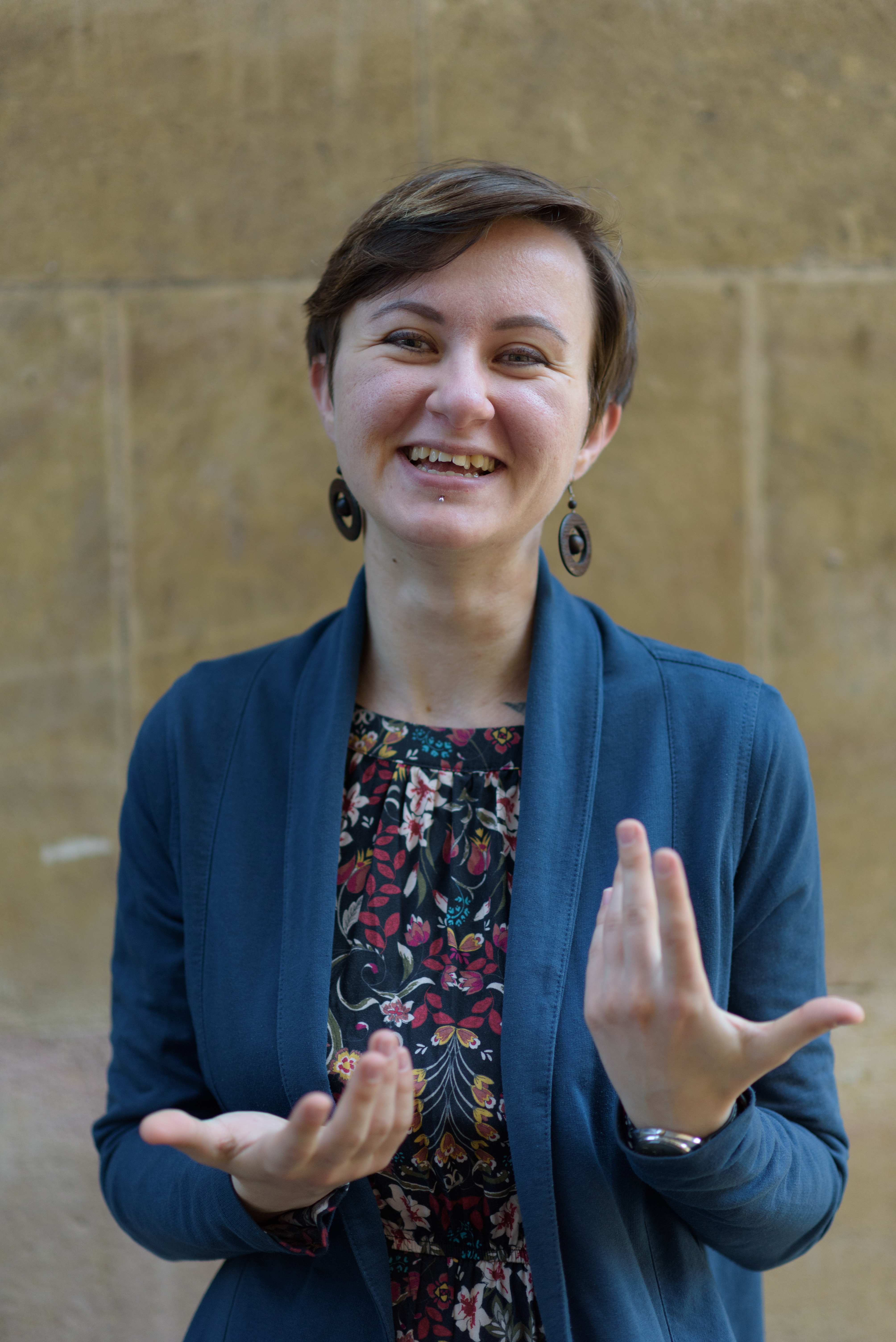 Iryna Shuvalova
Alumni
Ukraine
2016 PhD Slavonic Studies
St John's College
Born in 1986 in Kyiv, Ukraine, Iryna Shuvalova has authored five award-winning books of poetry, including Pray to the Empty Wells (Lost Horse Press, 2019). Her most recent and fifth book of poetry Stoneorchardwoods (2020) has been named book of the year by Ukraine's LitAktsent Prize for Literature and received the Special Prize of the Lviv UNESCO City of Literature Book Award. In 2009, she co-edited 120 Pages of 'Sodom,' the first anthology of queer writing in Ukraine. Her poetry has been translated into 25 languages and published internationally, including in Modern Poetry in Translation, The White Review, Literary Hub, Die Zeit, and others. She is a member of PEN Ukraine.
Shuvalova's work as a translator includes translations into Ukrainian of novels by Yann Martel and Virginia Woolf, as well as poems by Ted Hughes, Louise Glück, and Alice Oswald. She has also translated into English the writing of modern and contemporary Ukrainian poets, including Lesia Ukrainka, Mykola Bazhan, Iurii Klen, Mykola Zerov, Ostap Slyvynskyi, and others. Her translations appeared in Words Without Borders, Modern Poetry in Translation, and Ambit, as well as multiple anthologies.
Shuvalova's research interests lie at the intersection of culture and politics in Eastern Europe. Her forthcoming academic monograph 'Donbas Is My Sparta': Identity and Belonging in the Songs of the Russo-Ukrainian War explores the impact of the war on Ukrainian society. She holds a PhD in Slavonic Studies from the University of Cambridge and an MA in Comparative Literature from Dartmouth College, where she was a Fulbright scholar. In the summer of 2023, she will be joining the University of Oslo as a postdoctoral research fellow.
Previous Education
Taras Shevchenko National University of Kyiv
Dartmouth College
Links
https://irynashuvalova.com
https://cambridge.academia.edu/IrynaShuvalova
https://ua.linkedin.com/in/shuvalova