Clara Devlieger's research focuses on informal welfare systems in the Democratic Republic of Congo.
Disabled people are frequently treated as social outcasts in Congo, but at the border they seemed to have a degree of power. They had influence in certain processes and they were organised in unions. I was fascinated to know how they had managed this.

Clara Devlieger
How do societies evolve to offer a safety net to their most vulnerable members?
Clara Devlieger's research focuses on informal welfare systems in the Democratic Republic of Congo through studying discussions around emerging patterns of income generation among disabled people in Kinshasa.
It was while she was doing her master's in Social Anthropology at Louvain-la-Neuve University that Clara visited Kinshasa and was struck by the number of disabled people in the border area between the DRC and the Republic of Congo.
"There were disabled people everywhere there," says Clara, who was born in the DRC to Belgian parents working in development there. "They were trading and carrying goods around, getting them ready to be transported to the other side of the Congo River. It was fascinating. Disabled people are frequently treated as social outcasts in Congo, but at the border they seemed to have a degree of power. They had influence in certain processes and they were organised in unions. I was fascinated to know how they had managed this."
During her MRes in Social Anthropology, for which she won a Gates Cambridge Scholarship [2011], she started looking into this phenomenon, and she honed her research questions for her PhD.
Her PhD therefore started as a study of the role of disabled people in border trade between Kinshasa and Brazzaville. This role is fairly well known, both within the DRC and outside of it – many of Clara's interviewees first came to Kinshasa from rural areas after hearing about the opportunities of border work and in the years preceding her fieldwork a string of documentaries about Kinshasa featured people with disabilities at the border in Kinshasa and Brazzaville. However, it has been little studied in academia. Clara focused on people with physical disabilities, who were mostly polio survivors and amputees – who had generally lost limbs as a result of accidents.
Criminality or welfare
Clara's research gradually broadened out to consider the discussions around the informal solidarity systems disabled people used and how these were presented as controversial but tolerable in the absence of a welfare state. While border work is a source of income, for example, disabled people more frequently work as intermediaries for others than as traders on their own, which some people view less as a source of empowerment and more as a form of exploitation. The Congo River acts as a border between the capitals of the two Congos. At the time of Clara's research, a ferry connected the two cities. It offered discounts for disabled people who were allowed to take a helper with them for free. Disabled people used this allowance, among others, to smuggle people across at a discounted fare. Disabled people also got an informal discount on import taxes, and traders employed them to declare goods for them in order to avoid higher tax rates.
Clara was interested in the discussion around these controversial forms of income. Opinion in Kinshasa is divided as to whether this represents criminality or a necessary form of welfare. The discounts started in the 1970s, but the ferry discounts became more formalised in recent years while the customs discounts were negotiated on the spot.
All this changed in the last few years when Brazzaville started expelling undocumented migrants amid rumours of criminality, prostitution and child trafficking. This increased tensions between the two countries and had a big impact on border activities, leading to the suspension of ferry traffic for a while. The only way to cross the river became by speedboat, which was less accessible to the disabled.
They therefore had to find other sources of income. Some worked in very precarious jobs, such as selling sweets or shining shoes. Others formed groups of beggars; and many moved to other border zones, such as between the Democratic Republic of Congo and Angola. "It created serious difficulties for people. It was not the first time the border had been closed, but people told me they hadn't seen anything like this since the 1990s; it created serious tensions between the two countries. Some disabled people had back-up plans such as investments in local shops, but most had to improvise," says Clara.
The begging was therefore another example of an informal solidarity system. It involves organised groups of disabled people approaching local businesses and presenting themselves as NGOs with formal letters asking for money for specific causes, such as schooling, housing or New Year festivities. "People describe it as begging, but it is framed as NGO funding. It is very controversial. Some ask whether it should be allowed; others say it is degrading. Some ask whether the government should help disabled people," says Clara. "Framing it as NGOs asking for funding shows it is not okay to just ask for money. It raises questions about who is responsible for caring for the vulnerable."
Towards a welfare system
Clara finished her PhD last year and is currently working as a research fellow in Social Anthropology and African Studies at Cambridge. She is working on a book based on her PhD and is planning to start a research project with deaf, blind and albino people in the DRC. She says there is still a lot of social stigma around such forms of disability. People often suspect deaf and blind people are faking their disability to get access to privileges. Clara has an article based on her research coming out in Africa, the journal of the International African Institute, next month. Titled 'Rome and the Romains: Laughter on the Border Between Kinshasa and Brazzaville', it focuses on precarious livelihoods at the border and humour as a way of managing uncertainty.
All Clara's research links to discussions around state responsibility for the most vulnerable. Organised social welfare is accessible for less than 2% of the DRC population and care for disabled people traditionally tends to come under the auspices of the church and civil society organisations. However, Clara says ideas about this are evolving: people in Kinshasa view informal privileges for people with disabilities as compensations for the failings of the state to take care of people with disabilities. This is part of wider trends such as the rise of the welfare state in Western Europe and the evolution from ideas of disability being evidence of an individual moral flaw to discussions about structural inequalities and the need for state intervention.
In DRC things are beginning to change. "The government wants a more formal welfare system, but there are huge challenges," says Clara. "Activists are very keen. The government has very recently ratified the UN Convention on the Rights of Persons with Disabilities and is working to define disabled people's rights and embed them in national law. That affects how disabled people are viewed by society. However, there are huge political and social challenges."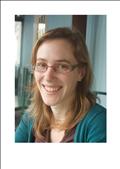 Clara Devlieger
Alumni
Belgium
2011 MRes Social Anthropology
Trinity College
I am very grateful to have received a Gates scholarship to start my PhD research in Social Anthropology this year. I will be preparing for fieldwork next year in Kinshasa, the capital of the Democratic Republic of Congo (DRC). There I will research the niche in trade between Kinshasa (DRC) and Brazzaville (capital of Republic of Congo) over the Congo River, a niche completely dominated by disabled traders. I am specifically interested in how the traders manage to turn their marginalised social position around in this African border zone. I will be looking into how the niche originated, which survival techniques the disabled use to keep it alive, and what the future of the niche will look like. After my PhD I hope to continue research through the international academic community and to use my findings in development cooperation.