Carol Ibe wins extra funding to develop her training workshops which are reaching hundreds of scientists in Africa.
In the future, we hope to establish the 'Reach & Teach' capacity building in other universities across the continent because that will enable us to reach more, teach more and form more collaborations that can effectively end hunger in Africa.

Carol Ibe
A Gates Cambridge Scholar has won new funding to further develop her impressive research training programme for African scientists and has been selected as runner-up for a prestigious Government award for impact writing.
Carol Ibe has been awarded competitive funding by the Global Challenges Research Funds to further develop her education non-profit the JR Biotek Foundation in terms of research training and capacity building for Africa-based agricultural researchers and plant breeders.
She has also been selected as a runner-up for the 2019 Biotechnology and Biological Sciences Research Council Impact Writing Competition. The aim of the competition, which is for PhD students and early-careers researchers, is to showcase the social or economic impacts of BBSRC activities and investments.
Carol's case study, "Building capacity in African tertiary education institutions, a neglected but much-needed intervention for food security in Africa", was about the first BBSRC Impact Acceleration Account-funded training workshop that she organised for Africa-based researchers in the Department of Plant Sciences at the University of Cambridge in March 2017. The BBSRC panel described it as "an engaging impact case study which showcases the impact of BBSRC's activities and investments and may be presented to an audience of senior policymakers".
Benin workshop
The JR Biotek Foundation has just completed a report on its most recent training workshop which took place in Benin in April. The large-scale scientific training workshop, organised by Carol, was a collaboration between early-career researchers from Cambridge's Department of Plant Sciences and the Laboratory of Genetics, Horticulture and Seed Science (GBioS) at the University of Abomey-Calavi in Benin. It involved 100 agricultural researchers from 19 African countries who were taught by 10 researchers from the University of Cambridge, University of Nottingham, the Pontificia Universidad Católica in Chile and Texas A&M University, USA.
The 'Reach & Teach' workshop included speeches from Dr Enoch Achigan-Dako from the University of Abomey-Calavi and the President of the African Society of Genetics as well as Carol Ibe. The speeches urged African governments and their development partners, tertiary education institutions and researchers to invest in high-quality research that effectively addresses food and nutrition insecurity on the continent.
The event involved lectures on core molecular biology principles and laboratory skills, crop breeding, plant physiology and statistical analysis, laboratory practice, a labware construction workshop, a 'Bio-innovation for Africa' pitching challenge, a professional development workshop and networking.
The Bio-innovation for Africa competition was created by Carol and aims to encourage African researchers and students to be more proactive and involved in finding practical solutions to some of the most pressing challenges faced in Africa.
It was split into two categories: start-up companies and non-profit organisations. The winner of the start-up category was Mwana-Mix, an Africa-based start-up company looking to produce baby food that enhances nutritional efficiency of infants and children in sub-Saharan Africa. Mwana-Mix will be made with two African indigenous crops that are rich in vitamin A and protein.
The winner of the non-profit category was ScInnovate Africa, an Africa-based start-up consultancy firm aiming to promote science communication and science policy across Africa.
In addition to the competition, the event provided state-of-the-art training in modern scientific concepts and laboratory techniques, which researchers can apply to improve agricultural research, productivity and food security on the continent.
Carol, who is one of this year's Bill Gates Sr Prize winners, says: "By reaching 100 Africa-based researchers, we indirectly reached thousands of undergraduate and postgraduate students who they lecture and/or supervise, with more relevant and up-to-date teaching materials that we provided during the workshop."
The event also provided knowledge and hands-on experience on how to build low-cost bio-instrumentation, which provides an alternative for expensive laboratory instruments that are not readily available in many universities across Africa, a unique platform for relationship building, knowledge exchange and formation of new research partnerships to address food insecurity in sub-Saharan Africa and an opportunity for UK researchers to see the challenges facing African researchers.
Reaching further
A follow-on workshop is planned to take place at the University of Abomey-Calavi, Benin in June 2020. It will provide a more specialised hands-on laboratory training tailored to meet the research needs of early-career researchers and plant breeders from our previous workshop.
Carol [2015] says: "In the future, we hope to establish the 'Reach & Teach' capacity building in other universities across the continent because that will enable us to reach more, teach more and form more collaborations that can effectively end hunger in Africa."
The report ends with a call for others to work together to build research capacity across Africa. It says: "Looking at the plethora of untapped and underutilised resources in Africa, including arable lands, food and crop varieties, even human resources, it may be fair to say that if Africa can feed itself, it can feed the rest of the world because it has the potential to do so. For this reason, we strongly encourage African governments and all key stakeholders, including international governments, NGOs, research councils, universities and funding organisations to work together and invest in building research capacity in African tertiary education institutions because that is where the innovations so desperately needed to end hunger in Africa can come from."
*Picture credit: Catherine (second from left) and some of the workshop participants after her lecture on the use of statistical software to analyse data from crop breeding programmes. Taken from the JR Biotek Foundation workshop report. The report will be posted on their website in due course.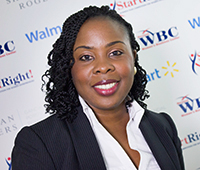 Carol Nkechi Ibe
Alumni
United States
2015 PhD Plant Sciences
Newnham College
I was born in the United States but grew up in Nigeria, where I completed a BS in microbiology. In pursuit of a better education and career, I returned to the US and did a master's in molecular biology and biochemistry with a specialization in biotechnology from the Georgetown University, and subsequently, a master's in clinical embryology from the University of Oxford. During my studies at Georgetown, I became inspired to start JR Biotek, a life science education company that provides quality biotechnology and life science education, training and laboratory capacity building programs to students, educators and scientists in Africa. My vision is to help build a powerful workforce that can advance scientific research and innovation in Africa, especially within the field of agriculture. I am also very passionate about developing more effective and practical solutions to food insecurity in sub-Saharan Africa, and this influenced my decision to study plant science. My PhD research will aim to determine the commonalities and differences during intracellular rice root colonization by both beneficial and detrimental fungi, and how these associations may be enhanced for practical agricultural applications. Rice is a major staple food in many African countries; therefore, developing rice cultivars with better adaptations to low-input rice agroecosystems is crucial for achieving food security in the continent. This is the ultimate goal of my PhD. I am deeply honored to receive the Gates Cambridge scholarship, a life changing award that would allow me to improve the lives and careers of many in Africa.
Previous Education
University of Oxford
Georgetown University